Do you know the problem that customers have some trouble with their system(s) – or in most cases to handle it? Do you know phrases like: "It doesn´t work", "I only wanted to…" or "everytime I get an error…"? In most cases there it isn=t a big failure in handling the system and the solution is quite simple.
Even if you are not an administrator but a regular user who has to work with new IT solutions. This blog post will change your error handling and give you a faster ticket solution when you follow the next steps. So what to do now?
It is absolutely important to contact the administrator. But sometimes they are not reachable or are in a meeting. In this situation you have to open a ticket, an E-Mail or a short description via Skype, Teams or other Messenger solutions. The most important thing at this point is to describe your error and how it occurred very detailed.
Therefore everyone can work with a simple documentation tool by Microsoft. It is perfect to automatically record the error including screenshots and description. This is how it works with Windows 7, 8.1 or 10 as your operating system
9 Steps to follow for a better error handling
Use your start button
Type into the text field Steps Recorder
Click on Steps Recorder
Afterwards activate recording via Start Record button
From this moment every click and step you do will be recorded
To stop you can click the Stop Record button
Now a step by step overview is shown which is perfect for your administrator to show the error and how the error was created. Click Save now.
You can save the documentation as a zip archive and use it as a mail or ticket attachment for your administrator.
The file which is archived in your zip is named ".mht" and can be opened using your preferred web browser.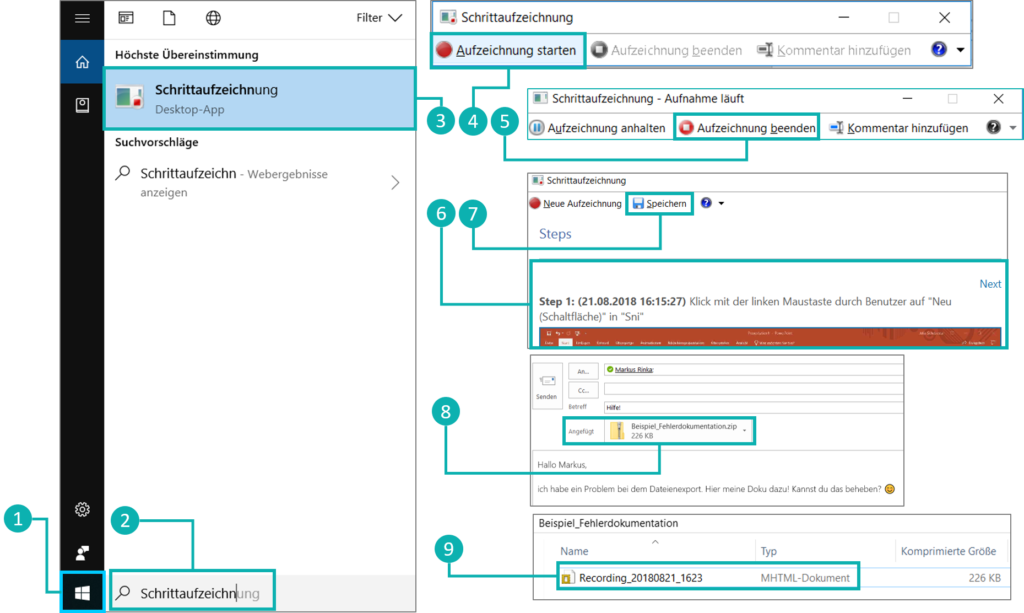 Trust us, he will love you for that. And in case you are the administrator share this solution to your users and colleagues to have an easier life.
Source and additional details: Support Microsoft